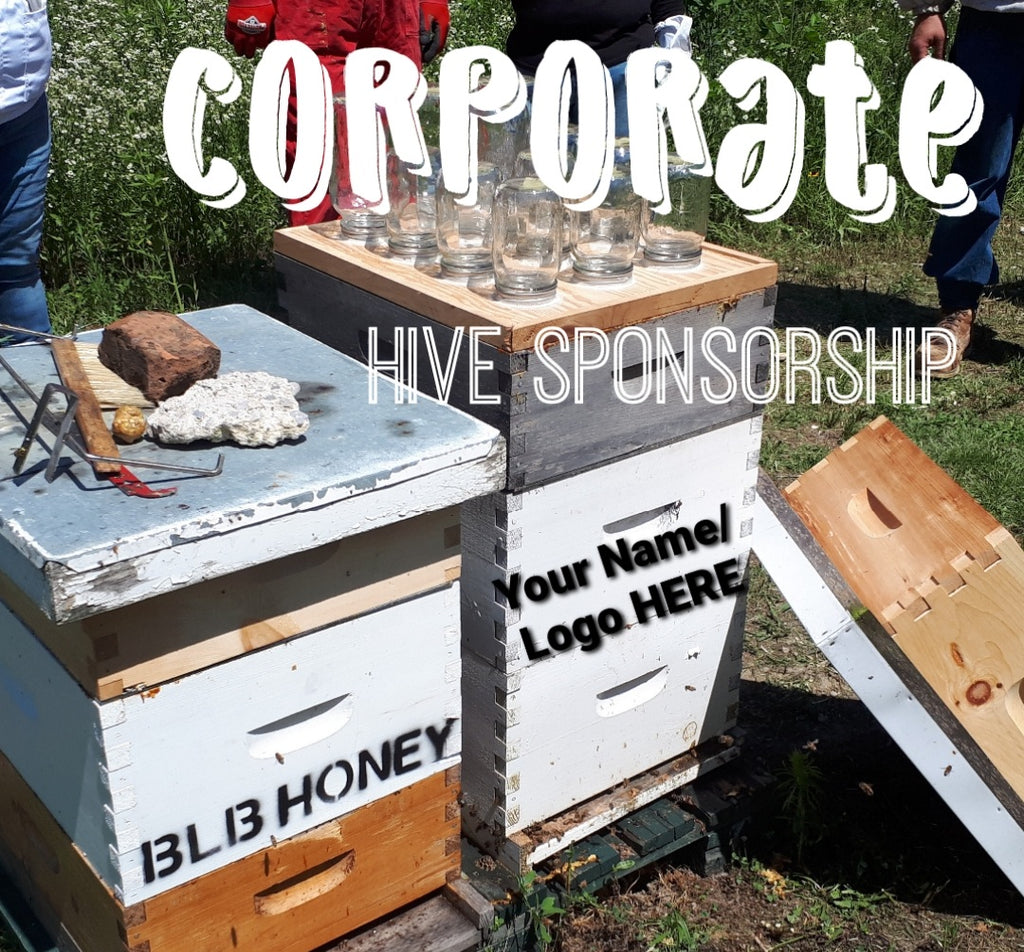 BLB Honey & Beekeeping Supplies
Hive Sponsorship - Corporate
The corporate level is a sole sponsorship for businesses looking to sponsor a colony or colonies in our tour and workshop apiary here at BLB Honey in Dresden, Ontario.  A great opportunity for advertising and marketing on social media with multiple groups visiting the bee yard, and thousands of views on our social platforms.  Boost your company's awareness and reputation through public relations and social media. 
If your company cares about the environment, and helping our pollinators sustain our local food supply, supporting a hive with BLB Honey will be an opportunity to directly support your local bee population and beekeepers. 
By adopting a hive you are supporting us as beekeepers giving the highest quality of care for our honeybee colonies. Through sustainable beekeeping practices, educational awareness and a focus on healthy, strong hives we are dedicated to increasing the honeybee population in our world.  Your sponsorship will also help us in innovating and developing new programs to continue making connections with people and the bees we need!  
Sponsor 1 or up to 20 colonies per season and enjoy learning about the craft of beekeeping, hive inspections, harvesting honey, and winter preparation for a beehive in Southern Ontario, Canada.  As an added bonus you will receive honey harvested fresh from your sponsored hive(s)! 
Corporate sponsors can expect a welcome package with a personalized certificate of sponsorship, and your hive's history. Minimum of monthly updates via email and/or social media posts tagged to your business profile throughout the entire season.  Sponsors will enjoy a visit to their hive(s) in our tour apiary and delicious, raw honey harvested from their sponsored hive that year.  Corporations can also customize their package by adding personalized labels to their honey and increasing the quantity of honey (harvested from hives in the same apiary). A special gift for customers, investors, land owners etc., and a great way to engage your clients in the project as well! 
CORPORATE SPONSORSHIP PACKAGE $899.95 +hst
*Your company name/logo/colours applied on your hive for the year to be seen by all tour and workshop groups throughout the season, and seen in our frequent social media posts. 
*Welcome package with personalized certificate of sponsorship, and a detailed history of your hive(s) origin story. Additionally, you'll receive a BLB Honey fact sheet on the basics of honeybees and beekeeping. 
*Minimum of monthly updates via email or direct posted and tagged to your business on Facebook and Instagram throughout the entire season from Spring to harvest to winter preparation.
* 1 hour apiary tour (2 Adults) in August to visit your hive and participate in the hive inspection with your beekeepers, Tyler & Bria  (Protective equipment provided) Additional tickets can be added for $50 per adult. 
*2 Cases (24 Jars) of freshly harvested, raw honey from your hive. If your hive doesn't produce excess honey you will receive honey from a hive in the same apiary.              Additional honey can be added on for $120.00+hst/case - Please Contact                        Personalized labels can be added for $55.00+hst/case  - Please Contact
*Company featured on our website and in our retail store in our sponsorship recognition webpage/store wall. 
*Thank you letter for your participation in our Bee Hive Sponsorship program and the season wrap-up.
 PLEASE NOTE: This is a 2022 sponsorship only, no bee hives are received by the purchaser. 
---
Share this Product
---
More from this collection